A powerful 7.8-magnitude earthquake early Monday killed more than 1,700 people in Turkey and Syria and set off a search for survivors amid the rubble of fallen buildings.
The pre-dawn earthquake with an epicenter near Gaziantep, close to the Turkey-Syria border, was followed by a magnitude 7.5 earthquake about 100 kilometers north in the early afternoon.
Epicenter of a 7.8 earthquake near Gaziantep, Turkey (U.S. Geological Survey)
Turkish officials say more than 1,000 people were killed in Turkey and thousands more injured.
Turkish President Recep Tayyip Erdogan said at least 2,800 buildings had collapsed.
"Because the debris removal efforts are continuing in many buildings in the earthquake zone, we do not know how high the number of dead and injured will rise," Erdogan told reporters.
Syrian health officials said at least 430 people were killed in the government-held areas, while rescue workers said at least 225 others died in rebel-controlled areas.
The quake destroyed the historic Gaziantep Castle and many other historic buildings in the area.
In the Turkish city of Mersin, resident Nurhan Kiral told VOA's Turkish service that the earthquake lasted about a minute.
'We woke up with the tremor and got out of the bed. Rubble fell from the chimney. Rubble fell from the empty space between the buildings. It was terrifying,' Kiral said.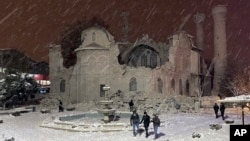 People walk next to a mosque destroyed by an earthquake in Malatya, Turkey, Feb. 6, 2023.
The Syrian American Medical Society said its hospitals in Syria were 'overwhelmed with patients filling the hallways.'
'Many hospitals are full, but some critical facilities, including Al Dana Hospital had to evacuate patients after sustaining severe damage from the earthquake,' the group said in a statement. 'Likewise, the Idleb Maternity Hospital was forced to transfer all newborns to a nearby hospital.'
International help
The European Union said it mobilized rescue teams to the region, with crews from Bulgaria, Croatia, the Czech Republic, France, Greece, Hungary, Malta, the Netherlands, Poland and Romania.
'Our thoughts are with all those who have lost loved ones and the brave first responders working to save lives,' EU foreign policy chief Joseph Borrell and Commissioner for Crisis Management Janez Lenarčič said in a joint statement.
French President Emmanuel Macron, German Chancellor Olaf Scholz and British Prime Minister Rishi Sunak all said their governments were ready to help those affected by the earthquake.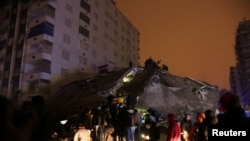 People search through rubble following an earthquake in Diyarbakir, Turkey Feb. 6, 2023.
'Greece is mobilizing its resources and will assist immediately,' Greek Prime Minister Kyriakos Mitsotakis tweeted.
Israeli Prime Minister Benjamin Netanyahu said search and rescue teams, as well as medical aid, would be going to Turkey in response to a request from the Turkish government.
Russia also said it had rescue teams preparing to go to Turkey to help earthquake victims in both Turkey and Syria.
U.S. national security adviser Jake Sullivan said President Joe Biden directed the U.S. Agency for International Development and other federal partners 'to assess U.S. response options to help those most affected.'
'The United States is profoundly concerned by the reports of today's destructive earthquake in Türkiye and Syria. We stand ready to provide any and all needed assistance,' Sullivan said in a statement.
Ukrainian President Volodymyr Zelenskyy offered his government's support as well.
'I am shocked to learn of deaths and injuries of hundreds of people as a result of the earthquake in Turkey,' Zelenskyy tweeted. 'We send our condolences to the families of the victims and wish the injured a speedy recovery. At this time, we stand by the friendly Turkish people and are ready to provide the necessary assistance.'
Turkey is in one of the world's most active earthquake zones.
In 1999, 17,000 people were killed when a 7.4-magnitude earthquake - the worst to hit Turkey in decades - struck near Duzce, in the northwest of the country.
In October 2022, a magnitude-7.0 quake hit the Aegean Sea, killing 116 people and wounding more than 1,000. All but two of the victims were in Izmir, Turkey.
VOA Turkish contributed to this report. Some material also came from The Associated Press, Agence France-Presse and Reuters.