Dar es Salaam, Tanzania - Human rights activists are voicing appreciation for U.S. Vice President Kamala Harris's recognition of efforts by Tanzania's president to strengthen democracy in the country.
In Dar es Salaam on Thursday, Harris oversaw the signing of a memorandum of understanding between the two countries, covering a range of issues.
In a joint press briefing at Dar es Salaam State House, Harris hailed President Samia Hassan. "You have been a champion in terms of democratic reforms in this country and, in that way, have expanded our partnership,' she said. 'And so today, then, is part of the strengthening of the relationship between our two countries."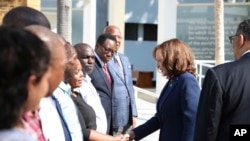 U.S. Vice President Kamala Harris greets survivors of the 1998 bombing of the American Embassy in Tanzania at National Museum and House of Culture in Dar es Salaam, Tanzania, March 30, 2023.
The U.S. and Tanzania signed a five-year agreement of assistance worth $1.1 billion aimed at improving good governance and development.
Since coming to power in 2021, Hassan has moved away from policies by her late predecessor, John Magufuli, that critics said suppressed the opposition and all forms of dissent.
Hassan has lifted restrictions on the media, ended a ban on political rallies and recently promised to restore competitive politics.
Speaking at the event, the president told the vice president that she was committed to strengthening democracy.
"Acceptable democratic space has been a major concern of my government,' she said. 'We have endeavored to build a democratic state that upholds transparency and respect of the rule of law."
Anna Henga, executive director of the Legal and Human Rights Center in Tanzania, said that 'when we look at the current situation, there is some relief' with regard to human rights. 'We cannot deny that we haven't yet reached where we want to be, but the world can see the moves that Tanzania is making toward democracy. Therefore, I was not surprised by Harris's remarks. As for the U.S. support, I believe it will continue and I'm hopeful that we'll reach our desired destination."
Bob Wangwe, head of the Tanzania Constitutional Forum, known in Swahili as Jukwaa la Katiba, said Tanzania needs constitutional reforms that will, among other things, allow presidential results to be challenged and independent candidates to run for office.
U.S. Vice President Kamala Harris shares a light moment with Tanzanian climate entrepreneur Gibson Kiwago at the SNDBX Space, a space for freelancers, entrepreneurs, builders, innovators and creatives, in Dar es Salaam, Tanzania, March 30, 2023.
"I think that these engagements and the statement from Kamala will ultimately advance democracy in this country,' he said, 'and I am looking forward to the substantial steps the government has to undertake." Wangwe said those include "undertaking constitutional reforms to strengthen some institutions that will help the country in terms of accountability."
Harris left Tanzania on Friday for Zambia, the final stop on her tour of three African countries that began in Ghana.