A group of Americans freed after years of detention in Iran arrived Tuesday in Washington as part of a deal that included the release of five Iranians charged or convicted of crimes in the United States.
The Americans were greeted by loved ones who cheered and rushed to embrace them as they walked off the plane in the pre-dawn hours.
Siamak Namazi, Emad Shargi and Morad Tahbaz, along with two other American detainees whose identities remained private at the request of their families, departed Qatar on Monday after an initial stop in Doha.
Namazi's mother and Tahbaz's wife, who had been under travel bans in Iran, were also allowed to leave with the group.
Iranian state media said two of the freed Iranians also traveled through Doha before arriving in Tehran.
Iran's foreign ministry said two others would remain in the United States, while the other freed Iranian would go to another country.
U.S. President Joe Biden said in a statement the freed Americans would be reunited with loved ones "after enduring years of agony, uncertainty, and suffering." He thanked the governments of Qatar, Oman, South Korea and Switzerland "for their tireless efforts to help us achieve this outcome."
Biden also warned Americans not to travel to Iran, highlighting State Department warnings about the risk of kidnapping and arbitrary arrest.
"All Americans should heed those words and have no expectation that their release can be secured if they do not," Biden said.
Iranian President Ebrahim Raisi said Monday's exchange could be "a step in the direction of a humanitarian action between us and America."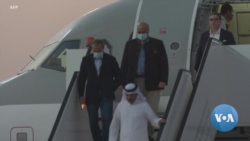 Embed share Tehran Frees 5 Iranian Americans in Prisoner Swap Embed share The code has been copied to your clipboard. width px height px
No media source currently available
Speaking to journalists at the United Nations General Assembly in New York, he said, "It can definitely help in building trust."
The agreement included the United States allowing $6 billion in Iranian funds frozen under U.S. sanctions to be transferred from accounts in South Korea to accounts in Qatar. The funds are designated for use only for Iranian humanitarian purposes, such as food, medicine and agricultural products.
The Biden administration officials told reporters the system is set up in a way that they are very confident the threat of the money being diverted for other purposes is very low, and if there is a diversion, the accounts will be locked up.
US citizens Siamak Namazi (R-back), Emad Sharqi (L) and Morad Tahbaz (C) disembark from a Qatari jet upon their arrival at the Doha International Airport in Doha on Sept. 18, 2023.
Former U.S. President Donald Trump and some U.S. conservative lawmakers criticized Biden for agreeing to the deal, contending the release of the $6 billion amounted to a "ransom" for the hostages and that the money would allow Iran to help develop its nuclear weapons system and not be used for humanitarian purposes.
Trump lashed out at Biden last week on Trump's Truth Social media site, saying the deal sets a 'TERRIBLE precedent.'
Senator John Thune said on Facebook that 'the U.S. should be unrelenting in its efforts to bring detained Americans home, but Iran will now count pallets of ransom money, putting its leaders in a better position to develop a nuclear weapon and fund terrorists. And the price to release U.S. hostages will only go up.'
The White House, however, said the U.S. is not giving Iran any money.
'This isn't a payment of any kind. These aren't U.S. dollars. They aren't taxpayer dollars, they are Iranian dollars the [Trump] administration allowed them to make' in oil sales to other countries, National Security Council spokeswoman Adrienne Watson said in a statement.
The five Iranians who were part of the exchange were charged or convicted of nonviolent crimes in the United States and received U.S. clemency. They were identified as Kaveh Lotfolah Afrasiabi, Mehrdad Ansari, Amin Hasanzadeh, Reza Sarhangpour Kafrani and Kambiz Attar Kashani.
The Biden administration officials said the Iranians who lacked legal status in the United States would return to Iran.
Ansari and Kafrani have no legal U.S. status. Afrasiabi and Hasanzadeh are permanent U.S. residents, while Kashani is an Iranian-American dual national.
In addition to the prisoner swap, the United States imposed new sanctions as it called on Iran to give a full account of what happened to Robert Levinson, a former FBI agent who went missing in Iran under mysterious circumstances in 2007 and is presumed dead.
"The Levinson family deserves answers," Biden said. "Today, we are sanctioning former President Mahmoud Ahmadinejad and the Iranian Ministry of Intelligence under the Levinson Act for their involvement in wrongful detentions. And we will continue to impose costs on Iran for their provocative actions in the region."
Some information for this story came from The Associated Press, Agence France-Presse and Reuters.